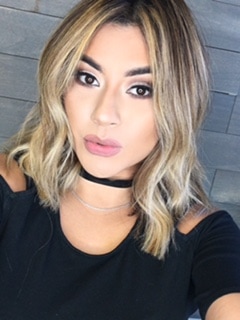 Claudia Lucio is an accomplished and creative Hairstylist/Makeup artist with experience in media makeup, fashion, bridal and print.
Claudia began her professional journey at Paul Mitchell the School Of Houston where she was taught the basic building blocks for her to pursue her passion for hair and makeup. Always keeping current with trends and continuing her education, Claudia has attended many workshops hosted by celebrity hair and makeup artist.
Taking all she has learned throughout her journey she has used it to build a successful clientele and has become an artist for the Ted Gibson Artistic Team. She has participated in New York Fashion Week Fall 2016 and has worked with Mrs Texas, Texans Cheerleaders and Cowboys Cheerleaders.
She has also made a name for herself in the Houston and Pearland hair/makeup community. Claudia is very passionate about the beauty industry and will continue to put her career first as she reaches her goal of becoming a well known artist and educator.
Artistic Background
Professional Experience
Glam By Claudia
Owner
Hairstylist/MakeupArtist
January 2012-Present
Neri Hair Studio, Pearland Texas
Hairstylist/ Makeupartist
May 2013-August 2015
Education





Paul Mitchell School Of Houston


Texas Cosmetologist Graduate
January 2012- May 2013

Certifications

Lara C. Kay Hairstyling 101 Hands On
Celebrity Hairstylist
March 8, 2015

Dress Your Face- Tamanna Roashan
Celebrity Makeup Artist
March 1, 2015

Lara C. Kay's Look N'Learn
Celebrity Hairstylist
Spetember 28, 2014

Joyce Bonelli – LA Workshop
Celebrity Makeup Artist/ Kardashian Makeupartist


August 30, 2014



Face2Face iluvsarahii Makeup Tour
Celebrity MakeupArtist


August 10, 2014



FP- Francisco Pinto
Celebrity Hairstylist


July 27, 2014



Thalio Beckham Makeup Artistry
Celebrity Makeupartist


July 25, 2014



Brian Champagne Workshop
Celebrity MakeupArtist


June 1st, 2014



TNT Agency Advanced Contour and Highlight
Celebrity MakeupArtist
October 3rd, 2013


March 27th, 2014

MakeupARI

Workshop– Ariana Jimenez
Celebrity MakeupArtist/ Lilly Ghalichi / Adrienne Bailon
March 16, 2014

Benni Beauty- Benni Sanchez
Celebrity Makeupartist
January 5th, 2014


Last Looks Makeup
Bridal Makeup Certification
May 18-20, 2012


Transformation Makeup Academy
Eye Makeup Impact Class
March 10, 2012